It was recently brought to our attention that three of the still life paintings which Van Gogh completed in May of 1890, near the end of his life, all depict the same vase.  We did a little bit of our own investigating and determined that this is most likely correct.
It appears that the vase in Still Life: Vase with Irises Against a Yellow Background is the same as the vase in Still Life: Vase with Roses.  The vase in Still Life: Pink Roses in a Vase has a similar shape and handle on the side but is obviously a different color, which could simply be artistic license.  It's difficult to say with absolute certainty that these are the same vase but they were painted in the same time period so it is very likely that it is the same vase that was used and Van Gogh simply altered the appearance a bit as he painted.  Looking at the other still life paintings during this time period in Saint-Remy, we see vases that are distinctly different than this one, further evidence that this most likely is the same vase in all three paintings.
Take a look at the images below and see if you agree.
Van Gogh wrote to Theo on May 11 or 12, 1890 about Still Life: Vase with Irises Against a Yellow Background and Still Life: Vase with Roses. At the time he was working on two canvases with bunches of violet irises and another containing roses,
"I am doing a canvas of roses with a light green back-ground and two canvases representing big bunches of violet irises, one lot against a pink background in which the effect is soft and harmonious because of the combination of greens, pinks, violets. On the other hand, the other violet bunch (ranging from carmine to pure Prussian blue) stands out against a startling citron background, with other yellow tones in the vase and the stand on which it rests, so it is an effect of tremendously disparate complementaries, which strengthen each other by their juxtaposition.

These canvases will take a whole month to dry, but the attendant here will undertake to send them off after my departure."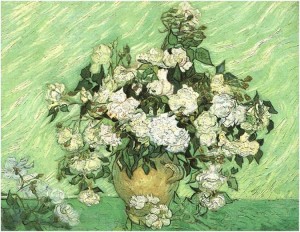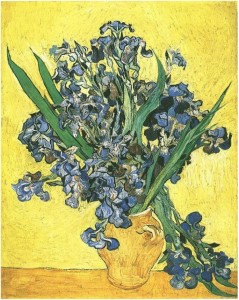 On May 13 he wrote to Theo about another still life,
"I have just finished another canvas of pink roses against a yellow-green back-ground in a green vase."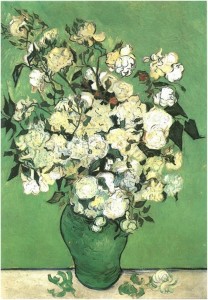 When writing to his sister Wilhelmina c. June 4, 1890, Van Gogh said,
"During the final days at St. Rémy I still worked in a frenzy, great bouquets of flowers, violet irises, big bouquets of roses, landscapes."
Letter Sources:
http://www.webexhibits.org/vangogh/letter/20/633.htm
http://www.webexhibits.org/vangogh/letter/20/634.htm
http://www.webexhibits.org/vangogh/letter/21/W21.htm