French painter, Virginie Demont-Breton exhibited her engraving, Her Man is Out to Sea, also called Her Husband is Gone to Sea, at the Salon of 1889. Later that year The Man is at Sea was painted by Vincent van Gogh, while he was in the Saint Paul asylum in Saint-Remy. During his time in the asylum Van Gogh painted his surroundings but he also spent time re-creating works by other artists.
Van Gogh produced some 30 different copies of works by other artists during his time in the asylum in an attempt to be reinvigorated artistically. He did not simply copy the works but he translated them through his own perspective, medium, colors and techniques.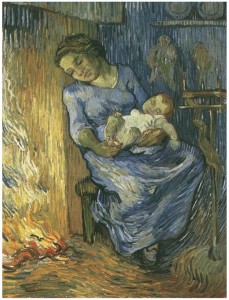 The Man is at Sea is a variation by Van Gogh of Her Husband is Gone to Sea by Virginie Demont-Breton. Van Gogh recreated the engraving in oil and in his own colors, primarily shades of violet, which he seemed to have painted for an attendant at the asylum.
"Then I promised the attendant here a copy of Le Monde Illustré, No. 1684, July 6, 1889, in which there is a pretty engraving after Demont-Breton."
Letter Source:
http://www.webexhibits.org/vangogh/letter/20/604.htm