In February of 1888, Van Gogh had moved from Paris to Arles, a small town in the South of France. Upon moving to Arles, Van Gogh experimented with all that he had learned while in Paris. His paintings had become influenced by Japanese prints, Impressionism and Neo-Impressionism.
In the last half of June 1888, Vincent van Gogh created a set of 10 paintings and five drawings known as the Harvest Series. This was one of Van Gogh's most prolific periods. He spent days in the wheat fields working under the burning sun to show peasant work, something always dear to his heart, and the stages of the harvest. He created ten paintings and five drawings in just over a week until his work was interrupted by a storm which brought the harvest to an end.
The Harvest paintings allowed Van Gogh to experiment with new color and style techniques that he learned in Paris and blend them with his passion for painting outdoors that he had discovered while in Nuenen.
Vincent mentioned his Harvest paintings to his brother, Theo, a number of times in his letters.
"I am working on a landscape with wheat fields which, I think, is as good as, say, the white orchard. It is in the same style as the two landscapes of the Butte Montmartre which were at the Indépendants, but I think it is more robust and rather more stylish."

"I am working on a new subject, fields green and yellow as far as the eye can reach. I have already drawn it twice, and I am starting it again as a painting; it is exactly like a Salomon Konink – you know, the pupil of Rembrandt who painted vast level plains. Or it is like Michel, or like Jules Dupré – but anyway it is very different from rose gardens."
The painting known as "The Harvest" or "Harvest at la Cra, with Montmajour in the Background" was one Van Gogh considered to be most successful. He wrote to Theo saying,
"The "Harvest" is rather more serious.

That is the subject I have worked on this week on a size 30 canvas; it isn't at all finished, but it kills everything else I have, except a still life which I patiently worked out."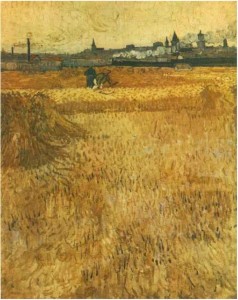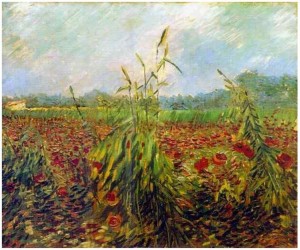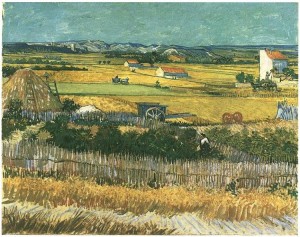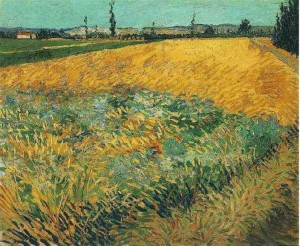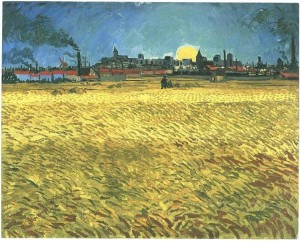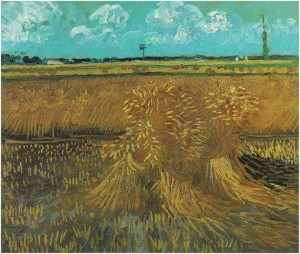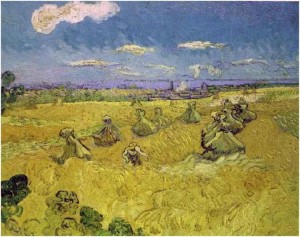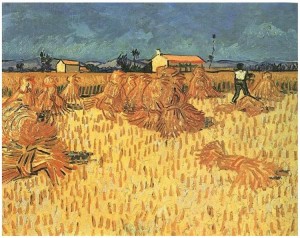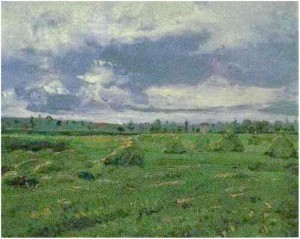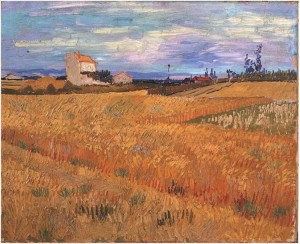 Letter Sources:
http://www.webexhibits.org/vangogh/letter/18/497.htm
http://www.webexhibits.org/vangogh/letter/18/496.htm