Charles-François Daubigny was a French landscape painter of the Barbizon school who created his paintings in open air, or en plein air, as did Claude Monet.  He frequently painted river scenes and was known to frequently work at the mouth of the Seine in a village called Villerville-sur-Mer.  Daubigny spent his final years in Auvers-sur-Oise and died there nearly twenty years before Van Gogh moved to Auvers.
In letters to his brother, Theo, Van Gogh mentioned Daubigny and his paintings numerous times.  He had a Daubigny print, The Dawn (Cock crossing), hanging on the wall of his little rented room in Montmartre.  In a letter to Theo from January, 1874, Van Gogh wrote that one of the painters that he particularly liked was Daubigny.
On March 3, 1878, Van Gogh wrote to Theo and discussed learning of Daubigny's death,
"Uncle told me that Daubigny had died. I freely confess that I was downcast when I heard the news, just as I was when I heard that Brion had died (his Bénédicité hangs in my room), because the work of such men, if it is understood, touches us more deeply than one realizes. It must be good to die in the knowledge that one has done some truthful work and to know that, as a result, one will live on in the memory of at least a few and leave a good example for those who come after. A work that is good may not last forever, but the thought expressed by it will, and the work itself will surely survive for a very long time, and those who come later can do no more than follow in the footsteps of such predecessors and copy their example."
When Van Gogh arrived, Daubigny's widow still lived in the house she had shared with her husband and allowed Van Gogh to paint the garden in 1890.  Van Gogh painted the enclosed garden three times between May and July, each painting titled Daubigny's Garden.
The first was a small study of the garden. Van Gogh wrote to Theo saying,
"I am planning to make a more important canvas of Daubigny's house and garden, of which I already have a little study."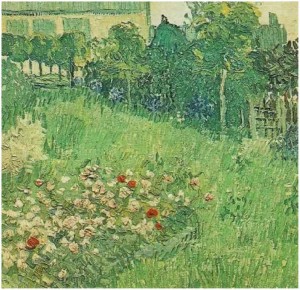 Van Gogh had obviously wanted to paint Daubigny's garden for some time. Following the study Van Gogh created two double-square canvas paintings of the full garden.  In a letter to Theo on July 10, 1890 he said,
"The third canvas is Daubigny's garden, a picture I have had in mind ever since I came here."
Then on July 23 he wrote,
"Perhaps you will take a look at this sketch of Daubigny's garden – it is one of my most carefully thought-out canvases."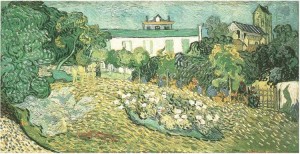 Van Gogh's paintings of Daubigny's garden are vivid and filled with early-summer flowers and grasses.  They are composed of natural tones of pinks, greens and violets, staying true to Daubigny's own devotion to nature.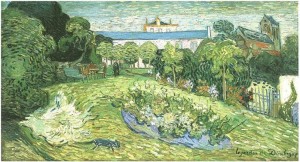 The small study of Daubigny's Garden is currently owned by the Van Gogh Museum in Amsterdam.  The second version of Daubigny's Garden which contains the small black cat in the foreground is on loan to the Kunstmuseum Basel in Switzerland.  The final version of Daubigny's Garden that Van Gogh painted lacks the black cat, which was painted over, and is on long-term loan to the Hiroshima Museum of Art in Japan.
Letter Sources:
http://www.webexhibits.org/vangogh/letter/6/120.htm
http://www.webexhibits.org/vangogh/letter/21/642.htm
http://www.webexhibits.org/vangogh/letter/21/649.htm
http://www.webexhibits.org/vangogh/letter/21/651.htm