We recently received the following Van Gogh inquiry from one of our Van Gogh Gallery site visitors.
"I haven't been able to find an answer to this, and it seems important: during the last years of his life, when Van Gogh was producing a painting a day or so, where were those paintings stored? 900 paintings takes up a lot of room. I think it's important, because obviously somebody thought his paintings were important enough to take the trouble to warehouse them somewhere, and that must have cost quite a bit (not to mention the cost of paints and canvases that he was going through on a daily basis)."
We thought this was a great question that others may have as well.  The following was our response:
You are quite right that it is difficult to discern where all of Vincent's paintings were stored. We know nothing of a warehouse or storage facility for the paintings.  We know that though Vincent painted for a living, he didn't actually make a living, since he only sold one painting during his lifetime. Instead his brother Theo supported him most generously and supplied for his needs including his paints and supplies.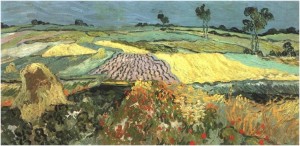 Many of Vincent's canvases were stored at Theo's home.  In a letter to Theo on July 2, 1890, he mentions that someone might stop by Theo's home to see some of his canvases saying,
"An Englishman, an Australian, named Walpole Brooke, will probably come to see you, he lives at 16 Rue de la Grande Chaumière – I told him that you would let him know when he could come to see the canvases that are at your place."
In her Memoir, Jo van Gogh discusses Vincent's visit on July 6, 1890 and says, "Vincent was not satisfied with the place where the pictures were kept, which caused us to discuss our removal to a larger apartment – so those were days of much worry and anxiety."
In a letter on July 10, 1890, Vincent again mentions storing canvases,
"I should find a shelter for myself and could retouch the canvases that need it. So that the pictures will be less ruined, and by keeping them in good condition, there will be a greater chance of getting some profit out of them. For – I don't speak of my own – but the canvases by Bernard, Prévost, Russell, Guillaumin and Jeannin were going to ruin there, it is no place for them.

Now canvases like these – again I do not speak of my own – are merchandise which has kept and keeps a certain value, and their neglect is one of the causes of our mutual penury."
In the same letter he also mentions that he has left some canvases at St. Remy,
"You see that with the canvases which are still at St. Rémy, there are at least 8 with the 4 here"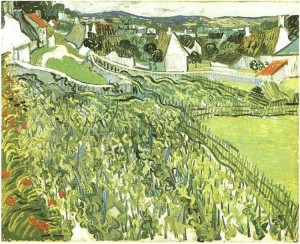 Van Gogh's final days were spent at the Auberge Ravoux, or House of Van Gogh.  This is where he spent his last 70 days and where he created over 70 paintings.  Here he piled his canvases under the bed and in the corner cupboard. Emile Bernard wrote to art critic Albert Aurier about Van Gogh's funeral saying,
"On the walls of the room where his body was laid out all his last canvases were hung making a sort of halo for him"
Following Vincent and Theo's deaths we have learned the Jo van Gogh was left with an apartment filled with some 200 of Vincent's paintings.
If you have a Van Gogh question please contact us.
Letter Sources:
http://www.webexhibits.org/vangogh/letter/21/646.htm
http://www.webexhibits.org/vangogh/letter/21/648.htm
http://www.webexhibits.org/vangogh/letter/21/etc-Bernard-Aurier.htm