In 1884, Vincent van Gogh created three paintings all titled Water Mill at Gennep. Van Gogh spent time in Neunen from 1883-1885 and during this time he studied the rural life of the people as well as their surroundings and he executed a number of landscapes, including the 3 watermill paintings. In a letter to his brother, Theo, Van Gogh mentioned the freezing working conditions in which he painted the mill,
"Though it has been freezing pretty hard here for the last few days, I am still at work out-of-doors, on a rather large study (more than 40 inches) of an old water mill at Gennep, on the other side of Eindhoven.

I want to do it entirely out-of-doors, but it will certainly be the last I shall paint out-of-doors this year."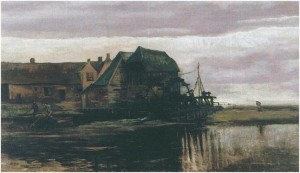 He wrote to Theo later in the month and told him about a friend who came about due to his painting of the mill,
"Yesterday I brought home that study of the water mill at Gennep, which I painted with pleasure, and which has procured me a new friend in Eindhoven [Anton Kerssemakers], who passionately wants to learn to paint, and to whom I paid a visit, after which we set to work at once."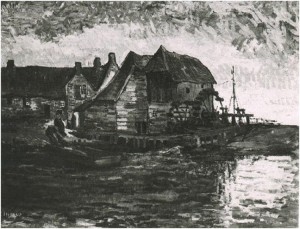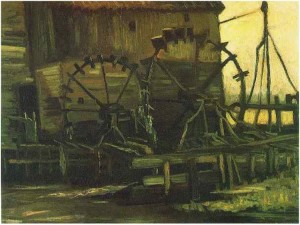 In mid-November of 1884, Van Gogh created a watercolor also titled Water Mill at Gennep.