Eugene Boch was a Belgian painter and became a friend to Vincent van Gogh during his time in Arles.  When Van Gogh moved to Arles he had hopes of developing friendships, however, the connections came slowly.  On July 5, 1888 Van Gogh wrote to his brother Theo about his loneliness:
"When I came here I hoped it would be possible to make some connection with art lovers here, but up to the present I haven't made the least progress in people's affection. And Marseilles? I don't know, but that may very well be nothing but an illusion. In any case I have quite given up gambling much on it. Often whole days pass without my speaking to anyone, except to ask for dinner or coffee. And it has been like that from the beginning.

But up to now the loneliness has not worried me much because I have found the brighter sun and its effect on nature so absorbing."
In early March of that year Van Gogh had met Danish painter Mourier Petersen and his American colleague Dodge McKnight.  The two were in Fontvieille, a village just north of Arles, to paint.  The three artists would visit regularly to share their work.  Van Gogh did not care much for McKnight, in a letter on May 4, 1888 he wrote saying,
"McKnight, is a dry sort of person and not too sympathetic either"
On May 10, 1888 he wrote,
"McKnight is getting very dull and has worked very little so far. And it is better to work hard and spend more, if one must."
Though some relationship had formed with McKnight, Van Gogh was obviously still lonely as it seems a good connection had not been made.  However, things seemed to improve when Eugene Boch visited McKnight.  Boch eventually became friends with Van Gogh though it was a slow start, probably due to McKnight's influence.
"McKnight has a friend with him now, I never see any of his work. Yesterday I showed four or five new studies to him and his friend; they looked at them in frosty silence."
July 8, 1888 Van Gogh wrote to Theo again mentioning Boch,
"Bock is staying with McKnight, and it seems that he is working very hard, but I have seen nothing yet. He is a young man whose appearance I like very much, a face like a razor blade, green eyes, and a touch of distinction. McKnight looks very common beside him."
Van Gogh had in mind to paint a portrait of Boch and wrote to Theo on August 11 with the ideas he had for the painting,
"I should like to paint the portrait of an artist friend, a man who dreams great dreams, who works as the nightingale sings, because it is his nature. He'll be a blond man. I want to put my appreciation, the love I have for him into the picture. So I paint him as he is, as faithfully as I can, to begin with.

But the picture is not yet finished. To finish it I am now going to be the arbitrary colourist. I exaggerate the fairness of the hair, I even get to orange tones, chromes and pale citron-yellow.

Behind the head, instead of painting the ordinary wall of the mean room, I paint infinity, a plain background of the richest, intensest blue that I can contrive, and by this simple combination of the bright head against the rich blue background, I get a mysterious effect, like a star in the depths of an azure sky."
In early September, Van Gogh finally had the opportunity he had hoped for. He painted a portrait of his friend Boch.  He wrote to Theo on September 3, 1888 saying,
"Well, thanks to him I have at last a first sketch of that picture which I have dreamt of for so long – the poet. He posed for me. His line head with that keen gaze stands out in my portrait against a starry sky of deep ultramarine; for clothes, a short yellow coat, a collar of unbleached linen, and spotted tie."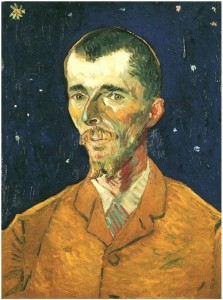 Though Van Gogh referred to the painting as a "first sketch" he liked it enough to hang it in his room next to a portrait of Milliet.  Nearly a month later he made another version of the portrait but was not satisfied with it as he had no model posing for him.
The portrait of Boch, The Poet: Eugene Boch, was given to Boch following the deaths of Vincent and Theo van Gogh.  When Boch died in 1941, the portrait was bequeathed to the Louvre and today can be seen in Paris at the Musee d'Orsay.
Letter Sources:
http://www.webexhibits.org/vangogh/letter/18/508.htm
http://www.webexhibits.org/vangogh/letter/18/482.htm
http://www.webexhibits.org/vangogh/letter/18/485.htm
http://www.webexhibits.org/vangogh/letter/18/502.htm
http://www.webexhibits.org/vangogh/letter/18/505.htm
http://www.webexhibits.org/vangogh/letter/18/531.htm