In May of 1889, Van Gogh admitted himself to the asylum at Saint Paul-de-Mausole in Saint-Rémy-de-Provence, France.  In his final year of life, he painted some 130 works.  Within the first week at the asylum, he began to paint Irises; the subject matter was inspired by the asylum's garden to the south of the men's section, and the style influenced by Japanese woodblock prints.  We see the Japanese influence in the strong outlines, unusual angles, cropped up-close views of the irises falling off the canvas and the use of color.
There are no known drawings or sketches of Irises, probably because Van Gogh considered this to be a study.  He shipped the painting to his brother, Theo, who saw the painting differently, submitting it to the exhibition of the Société des Artistes Indépendants in September 1889.  Theo wrote to Vincent about Irises on September 5, 1889,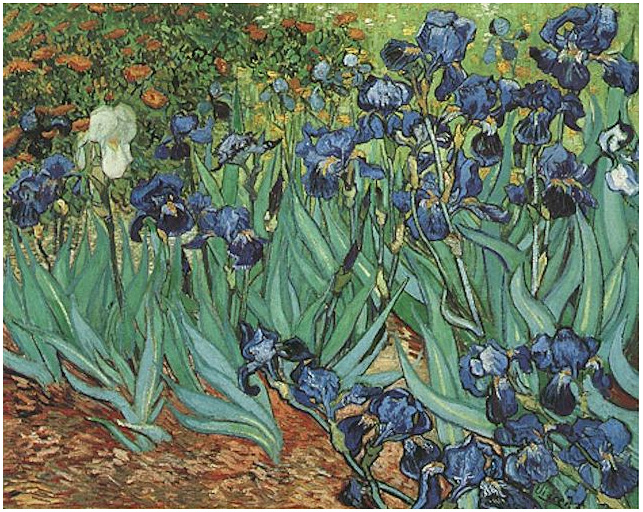 "…it strikes the eye from afar. It is a beautiful study full of air and life."
Irises was sold by Sotheby's in 1987 for $53.9 million, the highest price, up to that point, ever paid for an artwork at auction.  In 1990, the painting was sold to the J. Paul Getty Museum in Los Angeles where it is now on view.
Letter Source:
http://www.webexhibits.org/vangogh/letter/20/T16.htm