On April 18, 1889, Theo van Gogh married Johanna Gezina Bonger in the Amsterdam town hall and just a few short months later on July 5, 1889, Jo Van Gogh wrote to Vincent saying,
"I am now going to tell you a great piece of news, on which we have concentrated a good deal of our attention lately – it is that next winter, toward February probably, we hope to have a baby, a pretty little boy – whom we are going to call Vincent, if you will consent to be his godfather. Of course I know we must not count on it too much, and that it may well be a little girl, but Theo and I cannot help imagining that the baby will be a boy."

….

"When I think how neither Theo nor I are in very good health, I am greatly afraid that we are going to have a weak child, and to my way of thinking the greatest treasure that parents can give to their child is a strong constitution. But in this respect the doctor has reassured me a good deal, and then taking good food and taking good care of oneself may do a lot; the baby will have nothing to complain of in this respect."
Vincent van Gogh replied to the letter immediately with the following kind words:
"Jo's letter told me a very great piece of news this morning, I congratulate you on it and I am very glad to hear it."
Regarding the concern over their ill health, Van Gogh wrote:
"So take it as it comes, wait in confidence and possess your soul with great patience, as a very old saying has it, and with good will. Leave nature alone. As for what you say about Theo's health, although, my dear sister, I share your anxiety with all my heart, I must comfort you, just because I have realized that his health is, like mine too, more changeable and uneven than feeble."
Van Gogh mildly protested the baby being named after himself saying,
"As for being godfather to a son of yours, when to begin with it may be a daughter, honestly, in the circumstances I would rather wait until I am away from here.

Then Mother would certainly rather set her heart on its being called after our father. I for one would think that more logical in the circumstances."
Following this letter to Theo only a couple of letters passed between the brothers and then a silence.  After no response to one of his letters, Theo wrote to Dr. Peyron concerned for Vincent and learned that in mid-July he had experienced a breakdown which most likely involved hallucinations and nightmares.
Some believe that news of Jo's pregnancy might have contributed to Van Gogh's mental breakdown in July of 1889.  There may have been thoughts of uncertainty and anxiety over the fact that a baby would mean less time and less money that Theo would be able to commit to Vincent.  Others argue that Vincent expressed only joy over the occasion and that a pregnancy following the marriage a few months before would not have come as a great surprise.
On January 31, 1890, Vincent Willem van Gogh was born in Paris.  His uncle, Vincent, died just 6 months after his birth and his father, Theo, a year later.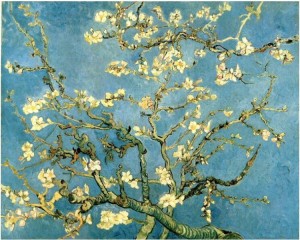 Vincent Willem attended the College of Technology at Delft in 1907 and graduated in 1914 with a degree in Mechanical Engineering.  Unlike his father and his uncle Vincent Willem cared nothing for art though he did have a genuine respect for it.  He inherited a vast collection of his uncle's work and was generous to loan it out to a variety of museums.  Following WWII he took more of an interest in the collection and became instrumental in establishing the Vincent van Gogh Foundation in 1960.  He dedicated himself to the planning and construction of the Van Gogh Museum and to the care and preservation of his uncle's priceless works of art.  Vincent Willem Van Gogh died in 1978.
Letter Sources:
http://www.webexhibits.org/vangogh/letter/20/T11.htm
http://www.webexhibits.org/vangogh/letter/20/599.htm