Van Gogh's Portrait of Adeline Ravoux
Adeline Ravoux was 13 years old when Vincent van Gogh rented a room in her father's inn in Auvers-sur-Oise.  Van Gogh made three portraits of the young girl though she only sat for him one time.  One of these portraits he gave to Ravoux and another he sent to his brother, Theo.  He wrote about the portrait in a letter to Theo,
"This week I have done a portrait of a girl of about 16, in blue against a blue background, the daughter of the people I am lodging with. I have given her this portrait, but I made a variant of it for you, a size 15 canvas."
In 1956, at the age of 76, Adeline Ravoux wrote a memoir of Vincent's stay at her father's inn.  In it she discusses Van Gogh's arrival, his dress and build, even his dining habits and his fondness for her younger sister, Germaine.  She explains how she came to sit for Van Gogh's portrait and how she and her parents were not impressed with the finished product.
"Vincent had not spoken to me before he did my portrait, other than for some polite words. One day, he asked me: "Would it please you if I did your portrait?" He appeared to really want to. I accepted and he asked my parents' permission. I was then thirteen years, but to some I appeared sixteen. He did my portrait in an afternoon, in one sitting. During the sitting Vincent did not say a word to me; he smoked his pipe non-stop.

He found me very well behaved and complimented me for not having moved. I was not tired, but it amused me to see him paint and I was very proud to pose for my portrait. Dressed in blue, I was sitting on a chair. A blue ribbon held my hair. I have blue eyes. He used blue for the background of the portrait: it was therefore a Symphony in Blue. M. Vincent also made a copy in a square format that he sent to his brother, as he indicates in one of his letters. I did not see him do this copy. There is also a third portrait of me. I don't know this last.

What I wish to emphasize is that I only posed for one portrait. I confess that I was only poorly satisfied with my portrait, that I was even disappointed: I did not see a resemblance."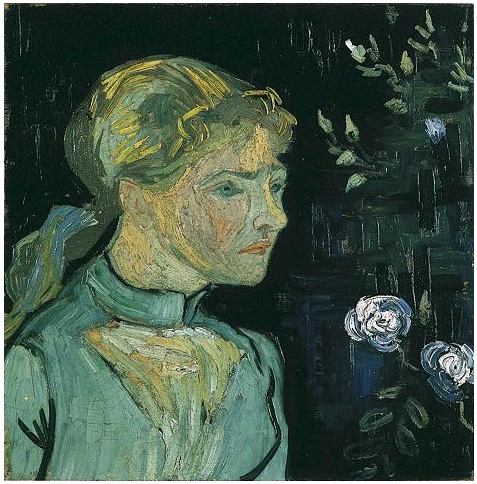 Ravoux explains in the memoir that some 15 years after Van Gogh's death her father sold the portrait as well as another Van Gogh painting, The Town Hall of Auvers on 14 July, for 40 francs to 2 American artists.  In 1988 at a Christie's auction, one of the portraits of Adeline Ravoux sold for $13.8 million.

Letter Sources:
http://www.webexhibits.org/vangogh/letter/21/644.htm
http://www.webexhibits.org/vangogh/letter/21/etc-Adeline-Ravoux.htm

Tags : Van Gogh Painting | Van Gogh Portrait