Van Gogh did a number of portrait paintings throughout his career including one completed in 1887 titled, Agostina Segatori Sitting in the Café du Tambourin.  For this portrait Van Gogh used Agostina Segatori as his model.  Agostina owned and operated the Café du Tambourin, located on the Boulevard de Clichy in Paris, which is the setting for this painting.  Agostina also modeled for Edouard Manet, Jean-Baptiste-Camille Corot and other artists.
Agostina's café was a meeting place for numerous artists, including Van Gogh and his friends.  She allowed the artists to display their artwork on the walls.  Van Gogh was among the artists to display his work there; his were primarily flower still lifes that he gave Agostina as payment for meals when he was short on money.  This was the first opportunity the public had to view Van Gogh's paintings.
In this painting, however, we see a different exhibit one of Japanese prints.  When Van Gogh lived in Paris, he began collecting Japanese prints, and beginning in February of 1887, he exhibited them in Agostina's café.  In Agostina Segatori Sitting in the Café du Tambourin, we see these Japanese prints in the background.  One of the prints is clearly two geisha girls while the others are blurred beyond recognition.
The single woman in the painting is sitting at a small table, a theme introduced by Impressionist artists such as Manet and Degas.  The chairs and tables in the café had tambourine tops which we can clearly see in the painting.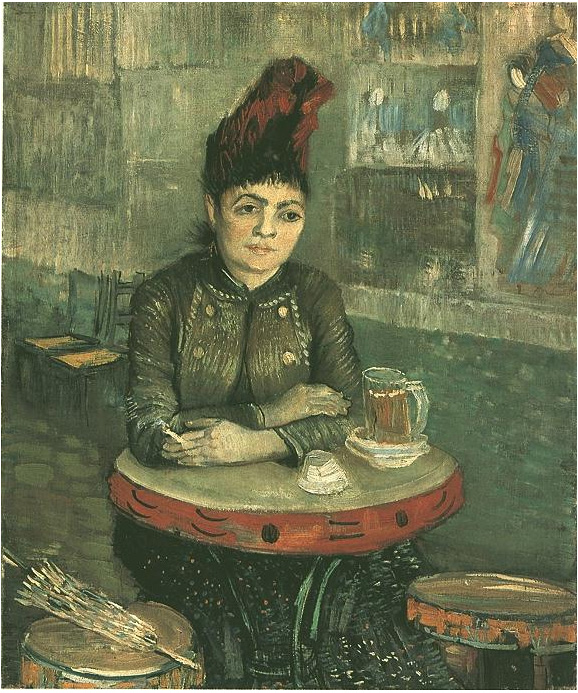 Agostina is wearing a fashionable outfit for the times.  Her jacket and dress have a different pattern, her parasol lies on the stool to her left, and her fashionable hat is held in place with hatpins.  She is on her second glass of beer, evidenced by the extra saucer, and she is smoking a cigarette.
It is most likely that Van Gogh was having an affair with Agostina at the time of the painting, although this is not certain.  Their relationship, however, was short-lived and only lasted about six months.  Van Gogh's connection to Agostina ended when she went bankrupt and the café, as well as Van Gogh's paintings, were confiscated by creditors.  In his letters to his sister, Wilhelmina, he referred to the disgraceful love affairs he had in Paris.  In a letter in the summer/fall of 1887 he said,
"I still continue to have the most impossible and highly unsuitable love affairs, from which as a rule I come away with little more than shame and disgrace."
Today Agostina Segatori Sitting in the Café du Tambourin hangs in the Van Gogh Museum in Amsterdam, The Netherlands.
Letter Source:
http://www.webexhibits.org/vangogh/letter/17/W01.htm