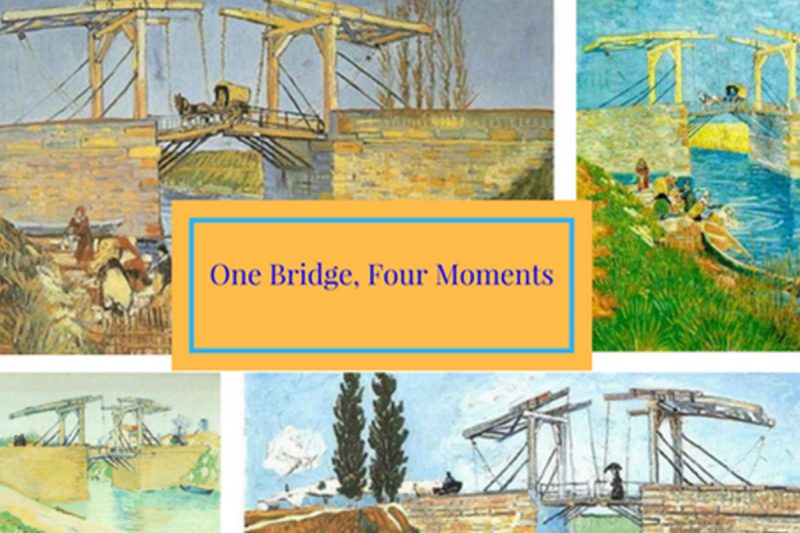 During his stay in Arles, Vincent did a study on the Langlois bridge.  Unfortunately, it is no longer in its original spot, as it was replaced by another bridge and then later replicated.  In homage to Van Gogh, the replication was renamed Pont van Gogh.  It's fitting given that the bridge inspired Vincent van Gogh to paint four oil paintings, four drawings, and four watercolors.  Van Gogh completed this study in 1888.
While this study will be referred to here as "Langlois Bridge with Washer Women, etc," it also goes by "Drawbridge with Washer Women" as well as a variety of similar names.  The title seems to depend on  the whims of the translator.  Oddly enough, Van Gogh himself mistook the bridge's name, having misheard it as "Pont de l'Anglais" (The English Bridge).  What drew Van Gogh to the bridge was its resemblance to the ones in the Netherlands.  This was not a mistake or a trick of the eye; a Dutchman had been the engineer who designed the bridge.  So for Van Gogh it was a little bit of home in France.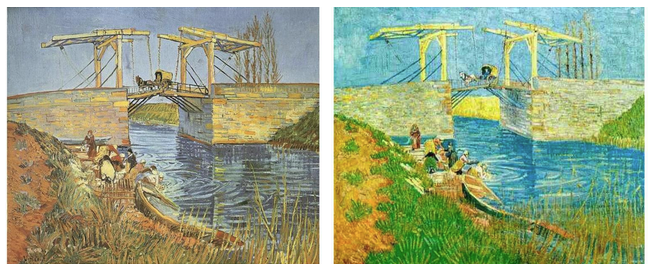 The Langlois Bridge with Washerwomen – Original and Copy for Theo van Gogh
The Langlois Bridge with Washerwomen is two out of the four oil paintings.  The first Van Gogh sent to his former supervisor, Herman Tersteeg, at the Goupil & Cie art dealership so that he would have an example of his work.  Van Gogh completed the original around March 16th; he mentioned it in a letter to his younger brother Theo.  He later made a copy that he sent to him.
The painting follows his typical style.  It is a slice of life, where his focus is not on capturing merely the people at work but on the scene as a whole.  All the women are focused on their task, wholly separate from the carriage driving over the bridge.  Two separate instances combined into a full picture of daily life.  His color choice denotes a bright, sunny day.  One that is middle of the summer hot.  The stones of the bridge appear warmed by the sun in yellow and grey brushstrokes.  The grass appears dry, yellowed from the sun, and even the dirt is a red-brown that appears burnt from its rays.
Guardar