During the later portion of Vincent's stay in Saint Remy he grew weary of his situation and had a desire to return North to the area surrounding Paris. Van Gogh wrote to his brother suggesting that perhaps he could room with fellow artist Camille Pissarro who was experiencing his own difficulties at the time. Theo spoke with Pissarro who said it wouldn't be practical and instead suggested Van Gogh find a place in Auvers-sur-Oise near a doctor who appreciated impressionist art and enjoyed painting in his spare time, Dr. Paul-Ferdinand Gachet.
Dr. Gachet had a medical practice in Paris, but spent the majority of his time at his house in Auvers. It was here that he befriended a number of Impressionist painters including, Monet, Pissarro, Guillaumin, Renoir, Sisley, Cézanne and Van Gogh. His home was filled with artworks and antiques. He became Van Gogh's physician during the last months of the artist's life.
Following a short visit in Paris, Van Gogh moved to Auvers-sur-Oise on May 20, 1890. It didn't take long for him to make the acquaintance of Dr. Gachet. That same day he wrote to Theo about the meeting saying,
"I have seen Dr. Gachet, who made the impression on me of being rather eccentric, but his experience as a doctor must keep him balanced while fighting the nervous trouble from which he certainly seems to me to be suffering at least as seriously as I."
…
"His house is full of black antiques, black, black, black, except for the impressionist pictures mentioned. Nevertheless, he is a stange fellow. The impression he made on me was not unfavorable. When he spoke of Belgium and the days of the old painters, his grief-hardened face became smiling again, and I really think that I shall go on being friends with him and that I shall do his portrait.
Then he said that I must work boldly on, and not think at all of what went wrong with me."
A few days later on May 25, 1890 Van Gogh wrote to Theo,
"Today I saw Dr. Gachet again and I am going to paint at his house on Tuesday morning, then I shall dine with him and afterwards he will come to look at my painting. He seems very sensible, but he is as discouraged about his job as a country doctor as I am about my painting. Then I said to him that I would gladly exchange job for job. Anyway I am ready to believe that I shall end up being friends with him. He said to me besides, that if the depression or anything else became too great for me to bear, he could quite well do something to diminish its intensity, and that I must not find it awkward to be frank with him."
Van Gogh did indeed become friends with Dr. Gachet and painted regularly at his home over the next two months. Van Gogh completed canvases of Gachet's garden, his daughter and portraits of the doctor himself.
"I am working on his portrait, the head with a white cap, very fair, very light, the hands also a light flesh tint, a blue frock coat and a cobalt blue background, leaning on a red table, on which are a yellow book and a foxglove plant with purple flowers. It is in the same sentiment as the self-portrait I did when I left for this place."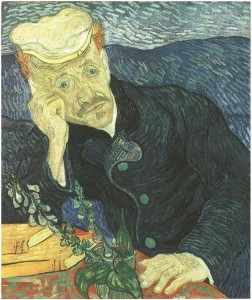 Within a few days of the original portrait Van Gogh made a replica, this time leaving the books off the table and the foxglove lying on the table instead of standing in a glass. Van Gogh must have given this second version to Gachet as it was later presented to the Louvre by his children following his death.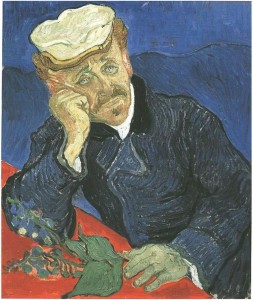 Though many questions swirl around a doctor who spent so much time with a patient and yet somehow missed any signs of suicidal behavior, Dr. Gachet attempted to care for Van Gogh as he lay in the Auberge Ravoux dying from a gun shot wound. Theo wrote to their mother,
"Dr. Gachet and the other doctor were exemplary and have looked after him well, but they realized from the first moment that there was nothing one could do."
Emile Bernard wrote to share the dreadful news of Van Gogh's death and funeral with Albert Aurier on August 2, 1890. He explained,
"A typical detail that I was told about his wish to die was that when Dr. Gachet told him that he still hoped to save his life, he said, 'Then I'll have to do it over again.'
…
Dr. Gachet (who is a great lover and possesses one of the best collections of impressionist painting of the present day) wanted to say a few words of homage about Vincent and his life, but he too was crying so much that he could only stammer a very confused farewell…(the most beautiful way, perhaps).
He briefly outlined Vincent's achievements, stating how sublime his goal was and how great an admiration he felt for him (though he had only known him a short time). He was, Gachet said, an honest man and a great artist, he had only two aims, humanity and art. It was art that he prized above everything and which will make his name live.
Letter Sources:
http://www.webexhibits.org/vangogh/letter/21/635.htm
http://www.webexhibits.org/vangogh/letter/21/637.htm
http://www.webexhibits.org/vangogh/letter/21/638.htm
http://www.webexhibits.org/vangogh/letter/21/etc-Theo-mother1.htm
http://www.webexhibits.org/vangogh/letter/21/etc-Bernard-Aurier.htm