The cafes of Montmartre became meeting places for Impressionist artists who were troubled with the Paris art world.  They were gathering spots where the artists offered each other advice and encouragement and became the subject of many Impressionist and Post Impressionist works.
Terrace of a Café on Montmartre (La Guinguette) was painted by Van Gogh in Montmartre Paris in October of 1886.  Instead of the light-hearted scene one might expect, he used sober colors with low light to portray the café and its patrons.  The figures have little detail and a fairly dark palette of browns and red.  The light post near the center has a surprising streak of aqua contrasting the surrounding trees and arbors.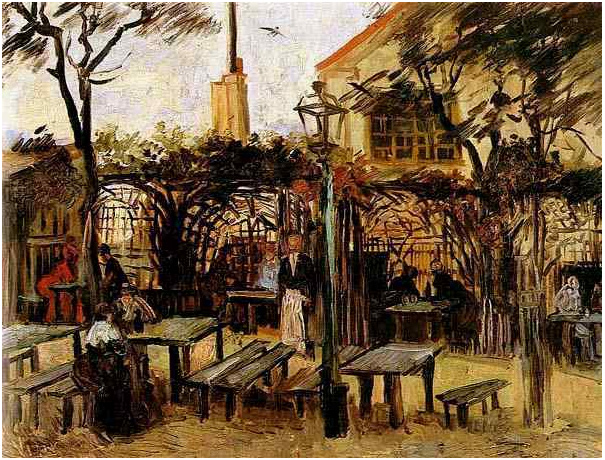 Pissarro, Sisley, Cézanne, Toulouse-Lautrec, Renoir, Monet, Zola and many other artists would meet and eat at this café.  The café is still there today and is called Auberge de la Bonne Franquette.  It is one of the most historic restaurants in Montmarte and a tourist destination, probably thanks to Van Gogh and his painter friends.