The Van Gogh Museum in Amsterdam re-opened after a seven month renovation period in which the building got new floors and a new, darker, coat of paint, as well as fire and safety improvements.  The re-opening is kicking off a new exhibition titled, "Van Gogh at Work" which shows the artist's work habits and includes a palette, paints and tools that he used.  There are 145 paintings and sketches on display.  The final painting added, which was hung symbolically, was a self-portrait in which Van Gogh painted himself sitting behind a canvas with his palette and brushes in hand called Self-Portrait in Front of the Easel or Self-Portrait as a Painter.
This Van Gogh self-portrait was painted in January of 1888 while he was in Paris and is quite different than many of his other self portraits.  Van Gogh's development as an artist and his mental state can be chronicled in his 35 self-portraits.
Van Gogh rarely portrayed himself as an artist in his paintings.  Along with Self-Portrait in Front of the Easel another exception is the very dark earth-toned, Self-Portrait with Dark Felt Hat at the Easel from 1886 which is characteristic of his early works following the Dutch tradition.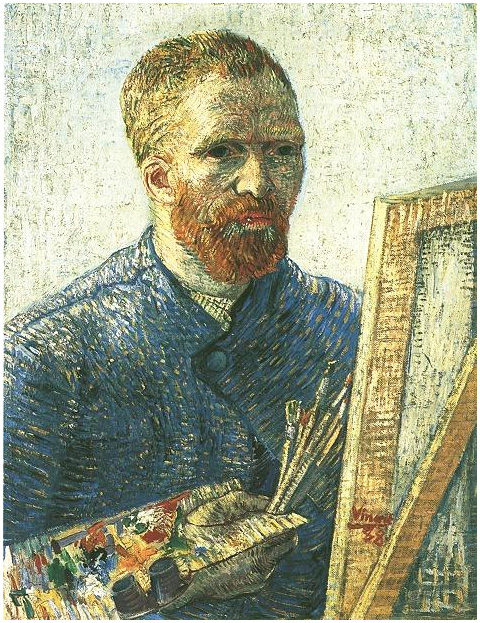 While in Paris, Van Gogh came under the influence of fellow artist, Georges Seurat, the father of Pointillism.  The technique of using dots of unmixed paint colors to create an image when viewed from afar wasn't the best for Van Gogh; his attempts were a bit awkward.  However, they did uncover his sense of the power of color.  In Self-Portrait in Front of the Easel we see a bold use of contrasting colors.  The blue painter's smock and the orange and red colors of his beard lay next to each other on his left shoulder creating a bold contrast.
As Van Gogh came under the influence of Impressionism we see more changes in his use of color.  Impressionists created color using pure hues, the colors of the rainbow.  They discontinued the use of mixed colors such as browns, grays and blacks.  In Self-Portrait in Front of the Easel what appears as gray shadow on his face, when viewed more closely, are actually strokes of red and green, which fuse together to create the appearance of gray.
It is believed that Van Gogh spent more time on this self-portrait than on many of the others.  This portrait is more finished looking, while many of the portraits are a bit sketchy in appearance, Self-Portrait in Front of the Easel is created with careful strokes.  It is apparent that Van Gogh was more confident and content with this work as his signature is located prominently on the wood of the easel.  Most of his self-portraits went unsigned.