We are frequently asked where are the best places to go to see Van Gogh outside of museums.  The answer to this question really depends on what you want to do; whether it is tour the places in which Van Gogh lived and worked which can still be seen today or go on a bike ride though the French countryside passing Van Gogh landscapes along the way, there are plenty of opportunities to experience the world of Van Gogh.  There are numerous tour companies which host Van Gogh related tours in Europe.  Or you can go on your own walking tour and experience some of the sights that inspired Van Gogh's masterpieces.   The city of Arles, France has a walking tour that will take you by ten places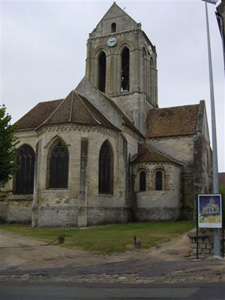 that Van Gogh captured in some of his most famous paintings including Starry Night Over the Rhone.  Arles also has the Café Van Gogh, L'Espace Van Gogh, and the Langlois Bridge.  If you would rather go back to Van Gogh's roots, visit the town of Zundert in the Netherlands where you can see Van Gogh's birthplace and the Van Gogh Church where Vincent's Father was pastor.   The town of Auvers-sur-Oise in France also gives visitors plenty of opportunities to step back in time and enter Van Gogh's world.  Visit the Dr. Gachet's garden, Notre Dame D'Auvers (shown left), or have a meal at the charming Auberge Ravoux and you will be transported back to Van Gogh's era.
View more details on some of the Van Gogh places you can still see today.  Or venture off the beaten path a bit and find some of the spots on your own.  Which Van Gogh places have you seen?  Comment and share them with us.