Dr. Paul Gachet was Vincent's doctor during the last few months of his life. Gachet treated Van Gogh in Auvers-sur-Oise the small town just outside Paris where Van Gogh was living. Working in Paris, Gachet knew many of Van Gogh's contemporaries including Renoir, Manet, Cezanne and Pissarro. In fact, it was Pissarro who recommended Gachet to Vincent's brother Theo. In a letter from March 29, 1890, Theo wrote to Vincent:
"I am very happy to be able to tell you that I met Dr. Gachet, that physician Pissarro mentioned to me. He gives the impression of being a man of understanding. Physically he is a little like you. As soon as you come here we are going to see him; he comes to Paris several times a week for consultations. When I told him how your crisis came about, he said to me that he didn't believe it had anything to do with madness, and that if it was what he thought he could guarantee your recovery, but that it was necessary for him to see you and to speak with you in order to be able to make a more definite statement."
Two months later after meeting Gachet in person, Vincent wrote to Theo with his impressions of the doctor, and seemed concerned with Gachet's own mental stability:
"I have seen Dr. Gachet, who made the impression on me of being rather eccentric, but his experience as a doctor must keep him balanced while fighting the nervous trouble from which he certainly seems to me to be suffering at least as seriously as I."
In the same letter he later wrote:
"I really think that I shall go on being friends with him and that I shall do his portrait. Then he said that I must work boldly on, and not think at all of what went wrong with me."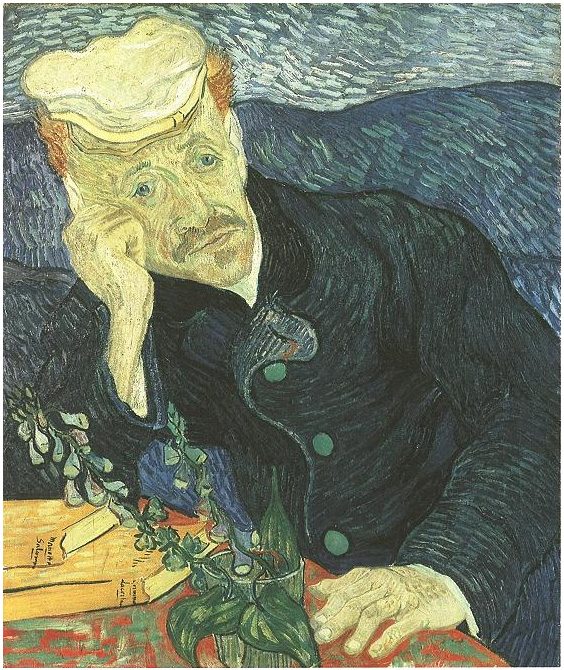 In the new book Leaving Van Gogh: A Novel, recently published by Spiegel & Grau, author Carol Wallace writes about the last two months of Van Gogh's life and his time with Gachet. The novel is narrated by Dr. Gachet and explores the connection between Van Gogh and Gachet. Read more information and news about the book Leaving Van Gogh.
Letters Source:
Letter from Theo to Vincent, March 29, 1890
Letter from Vincent to Theo, May 20, 1890