Last month the Van Gogh Gallery team had the privilege of visiting The National Gallery in London to take in a few of Van Gogh's masterpieces in person.   The home of one of the greatest collections of Western European paintings, The National Gallery is a remarkable museum to visit.  Conveniently located in Trafalgar Square, the impressive columns and dome of this building make it hard to miss. 
While the paintings of Michelangelo, Botticelli, Velazquez, Rembrandt, Rubens, and Raphael are just a few of those on display, our visit focused in on room 45 –  Van Gogh and Cezanne.  Although the room contained the works of Cezanne, Gauguin, Camille Pissarro, Vuillard, Rousseau and Toulouse-Lautrec, the crowds hovered on the wall containing the Van Goghs.  The central painting on this wall is Sunflowers.  This iconic work is even more vibrant to see in person with the rich golds and yellows and the accents of blue, which you don't notice as much on screen or in print as in person.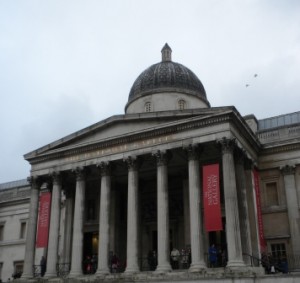 To the far left was Van Gogh's Chair.  What struck me most about seeing this painting hanging in the museum along with the other Van Gogh paintings was the size.  Measuring 91.8 x 73 cm (3ft x 2.3 ft), it is incredible to think that Van Gogh created over 800 paintings in such a short time frame when some of them are this size.  Besides the size, the number of colors used in this painting to create the varying shades of the yellow chair and the terracotta tile are too many to count.
To the far right was A Wheatfield, with Cypresses.  Seeing this painting in person, I came to appreciate all of the smaller details in this work.  The little red and white flowers and the blades of grass suddenly come into focus when you are standing in front of this painting.
In addition to these works, Van Gogh's Long Grass with Butterflies and Mother by a Cradle (Leonie-Rose Davy-Charbury) are both exceptional works in the museum collection although somewhat overshadowed by the previous three mentioned.
If you are planning a trip to London, The National Gallery, with its free admission, outstanding Van Gogh collection, and extraordinary works by other famous artists, should not be missed.