A Woman Walking in a Garden – A Reader's Question
October 3, 2014
No Comments
We recently received the following message from a Van Gogh Gallery visitor:
Hello, I'm wondering if it is known who the woman is (a name..?) in the painting, A Woman Walking in a Garden.
Vincent van Gogh painted A Woman Walking in a Garden in 1887. The painting is aptly named as it depicts a woman walking through a garden, surrounded by greenery and hints of red and yellow flowers. Unfortunately we can find no clue as to who the woman is. Van Gogh's letters usually provide many clues however, there are not many letters from Van Gogh in 1887 as he lived in Paris with Theo, and Theo was the recipient of the majority of Van Gogh letters that are on record today. The woman in the painting is a mystery.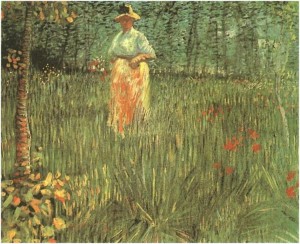 During his time in Paris his color palette became brighter, with yellows, greens, blues and reds. His brushstrokes also transformed and became more broken while his subjects moved from the city to the countryside. In a letter to his sister, Wilhelmina, in the fall of 1887, Van Gogh said,
"what people demand in art nowadays is something very much alive, with strong colour and great intensity"
The painting A Woman Walking in a Garden is an excellent representation of the change and transformation that happened to Van Gogh's paintings during this influential time period.

On June 20, 2005 the painting was sold at a Sotheby's sale in London and is now held in a private collection.

If you have a question about Van Gogh or one of his works contact us.

Tags : Van Gogh in Paris