Vincent van Gogh did not start out as an artist.  In fact, he had three attempts at different careers before he started his fabled work.  A previous post about Van Gogh's employment at Goupil and Cie, a prominent art dealership of the time, gives a good overview about his time there and about the company.  The post today is an in-depth look at how he lived during his time as an art dealer, what his impressions were of his life.
First and foremost, as a young man of the time, Vincent van Gogh lived in a boarding house.  Unmarried men usually let out a room in a boarding house where basic household services were provided, such as laundry and morning and evening meals.  As Van Gogh started his career as a clerk for Goupil and Cie in their branch at the Hague at age sixteen in 1869, it was no wonder that he needed a place to provide basic living necessities.  Due to his family's limited funds, it was necessary for him to find work to lessen the burden on the main household.  His younger brother Theo eventually joined Vincent at Goupil an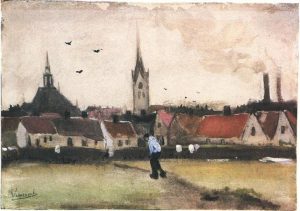 d Cie at a similar age four years after Vincent did.
Living in a city for the first time had the potential to be disastrous for a young man of sixteen.  Luckily, he boarded with family friends, Willem Marinus Roos and his wife Dina, and several of his mother's relatives lived in the Hague, a city on the western coast of the Netherlands.  He was not without support and visited his family often.  From 1869 to 1873, he worked first in the offices behind the gallery and then on the showroom floor.  By most accounts, Vincent was a pleasant man and did well at his job, promoting quickly through the ranks like his Uncle Vincent, known as Uncle Cent, before him.  Although retired from the art dealer business, Uncle Cent still had a financial hold in Goupil and Cie and used it to bring Vincent and Theo into the business.  Vincent van Gogh also grew close to the Hague branch's manager, Herman Tersteeg.
In the beginning, Vincent was happy with his work.  In the first few letters he sent to Theo, he continually reassured Theo that he would grow accustomed to life as a working man and repeated that he was happy that they both worked for the same company.  His exact words in the third letter are, "I'm really very happy that you're also part of this firm.  It's such a fine firm, the longer one is part of it the more enthusiastic one becomes.  The beginning is perhaps more difficult than in other jobs, but keep your chin up and you'll get along" (letter 3).  Granted, Vincent had just received a promotion and a bonus, but the encouraging tone was common when he wrote about work to his brother.  Many of his letters list what he had found for clients, what art was in demand.  He often asked Theo about how he found his work, what parts he liked.
In addition, at an earlier part of the letter Van Gogh mentions that he would be self-supporting as his wages increased to 50 guilders (the currency of the Netherlands) a month.  Until then, it wouldn't have been unusual for his parents to send him some money to help him get by; it was cheaper than still having him live at home with them.  More money allowed him to relieve his parents of some financial burden and become a man in the eyes of society.  At least as much of a man as anyone can be at the age of twenty.
Around March of 1873, Vincent received notice that he would be given another promotion and a transfer to the London office.  While the idea excited him, he admitted that he would miss the Hague and its surroundings.  In the subsequent letters, Van Gogh mentioned several concerns about money being an issue as the cost of living in London was higher than the Hague.  He worried that he wouldn't be able to find a boarding house, that he would have to let rooms and take care of all the duties of a household by himself.
Guardar
Comments
comments