Vincent van Gogh's father was a pastor of the Dutch Reformed Church in Holland. Born February 8, 1822, Theodorus was the seventh of eleven children. He was the only one of the six boys to follow in his father's footsteps and become a pastor. In 1849 he graduated from the theology program at Utrecht and on April 1, 1849 was confirmed by his father, Vincent van Gogh (the grandfather of the artist Vincent van Gogh). Theodorus was hired as the pastor of the Protestant Dutch Reformed Church in Groot-Zundert, in the North Brabant region of the Netherlands.
Theodorus van Gogh was known as a handsome man with a loving nature and good spiritual qualities. He was not known as a great preacher and was always assigned to churches in small villages such as Etten, Helvoirt and Nuenen, yet he was always appreciated and respected in his circles.
In May, 1851, Theodorus married Anna Cornelia Carbentus, the sister of his art-dealer brother, Vincent van Gogh's wife. Theodorus and Anna had a happy marriage as Anna was a wonderful helpmate and wife for a clergyman. The couple had 6 children, 3 boys and 3 girls. The artist Vincent van Gogh was the oldest of the surviving children that the couple had. One year to the day before his birth, the couple had a son who died at birth and was also named Vincent van Gogh. Both boys were named after their grandfather and their uncle, Theodorus' brother Vincent van Gogh, known as Uncle Cent, who lived from 1820-1888.
Vincent had a somewhat tense relationship with his father for a number of reasons including his overzealous ministry to the Church and then his passion to become a painter. Vincent's relationships were also a cause of tension with his father. Vincent fell in love with his cousin Kee Vos-Stricker, and though she rejected his advances, he continued to pursue her causing a rift with his parents. When Vincent took in Sien Hoornik, it scandalized the family, and his father pressured him to abandon the woman. The woman was pregnant, and many in the town believed that Vincent was the father. Whether Theodorus believed the rumor or not we don't know, but as the leader of a church, having a son accused of such actions reflected poorly on him and the family.
Vincent was unconventional, short-tempered and passionate causing numerous arguments between Theodorus and his son. Still Theodorus loved his son and believed Vincent to be a good man with a fear of the Lord. Vincent on the other hand knew that in his father's eyes he was a disappointment and failure. Theodorus expected much of him as the oldest son, but no matter how hard Vincent tried he never measured up. Vincent had failed in the ministry, so he set his mind on becoming a great artist so that his father would forgive him and be proud of him.
On March 26, 1885, at the age of sixty-three, Theodorus van Gogh died suddenly of a stroke. This was an extremely difficult time for the entire family particularly Anna Cornelia who was left a widow and for the Van Gogh children who were left fatherless. It seems that the pastor had been visiting a nearby town and had walked home 5 miles to Nuenen in the cold and snow. Apparently upon entering his home, he collapsed and died instantly. Theodorus' sudden death meant no opportunity for Vincent to prove himself and no hope of reconciliation with his father.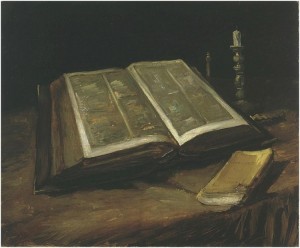 Still Life with Bible
In April 1885, the month following his father's death, Vincent painted a still life of his father's Dutch Authorized Bible. The Bible was in Vincent's possession because he was to make sure it got to his brother, Theo. He placed the Bible propped up on a cloth-covered table with a single burnt out candle next to it and a yellowed copy of La Joie de Vivre, written by Emile Zola, sitting on the table in front of it. Still Life with Bible symbolizes Theodorus van Gogh's faith.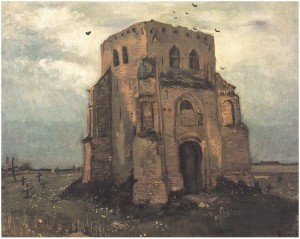 Old Church Tower at Nuenen ('The Peasants' Churchyard')
Theodorus van Gogh was buried in the cemetery at the foot of the old Nuenen church tower which was scheduled to be torn down within months of the funeral. Approximately four months following his father's death and burial, Vincent painted The Old Church Tower at Nuenen. The painting bears one white cross in front of the old tower, representing his father's grave. The painting is clearly a memorial to his beloved father.
Comments
comments