Vincent van Gogh's Mother – Anna Carbentus van Gogh
April 28, 2016
2 Comments
Anna Carbentus van Gogh was born on September 10, 1819 in La Haye, The Hague to Willem Carbentus, the book-binder to the King. She was one of eight children including two sisters, the oldest married to Amsterdam clergyman, Stricker, and the youngest, Cornelia, married to art dealer Vincent van Gogh.
When Anna turned 30 she was still unmarried and felt a more urgent need to find a suitable husband soon. In March of 1850, Cornelia, Anna's sister, 10 years her junior, announced her engagement to the well-to-do print dealer Vincent van Gogh. He also had a sibling that was behind in the marriage situation, a younger brother named Theodorus van Gogh, a preacher. Some three months after Cornelia's wedding a meeting was set up between Anna and Theodorus. The two seemed well suited for each other and both were eager to wed. Shortly after meeting, an engagement was announced.
Anna married Theodorus van Gogh on May 21, 1851 and the couple left for Groot Zundert. Anna was said to have been a pleasant wife and a good mother to their six children. She was a good helpmate to Theodorus and supported his work in the ministry. She not only worked hard for their family but took the time to visit the parishioners along with her husband. She was a lively, spirit-filled woman with much energy. When separation was inevitable letters to each other poured back and forth. We have an example of this with the record of all of Van Gogh's letters.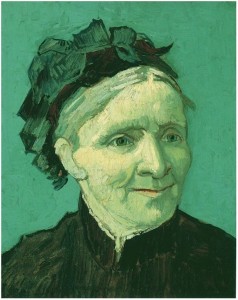 Anna was not a physically affectionate mother but instead used her words to affirm the family and profess her love. She insisted that a happy home life was essential to happiness. She taught her children that family was the ultimate refuge. Her views of family were so ingrained in her children that they clung to the family making any separation emotionally and physically painful for everyone.

Anna loved nature and insisted that the family walk around town for an hour each day. She also planted a garden and believed that working in a garden and seeing flowers grow was essential to good health and happiness. Each member of the family was responsible for cultivating the garden. She used the opportunity to teach her children the meanings of nature. The lessons learned in the garden were eventually transformed into works of art by her son, Vincent.

After dinner each evening the family gathered for lessons in history. Theo and Anna had a profound nostalgia for their country's history as well as for family history and they passed the sentiment on to each of their children.

She kept her hands busy with her family, her knitting and her pen. She expressed her feelings through writing and sent numerous notes of encouragement, comfort and strength to friends. She was also an amateur artist with a talent for drawing. Anna filled notebooks with drawings of plants and flowers. She shared her enthusiasm for art with her son, Vincent, from an early age. She felt that he had a pleasant talent but didn't imagine that he would become a great artist. As Vincent grew his passion for art she was supportive of his work.

Anna outlived her husband as well as all three of her grown sons yet she retained her energy and her spirit until her death on April 29, 1907, at the age of 87.

Tags : Anna van Gogh | Van Gogh's Family | Van Gogh's Mother